So we swung by the house (can't call it the "lot" or the "land" anymore!) and had a good look around. It's handy when there aren't any other houses being constructed around you, which makes it easier to go around the house and have a look at what progress has been made.
All the windows have been placed in, and it seems the frame is at a complete stage, but we discovered that there is an issue with the back wall (in particular, Bedroom 4). Maria took photos of the issue a couple of days prior to us both looking at it on the weekend, here is the pic in question (red circle shows issue).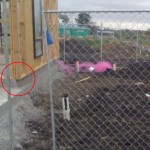 It seems that the frame for Bed 4 seems to be just sitting on thin air. We're not allowed to go on site without permission from Burbank, so I can't display a more close-up picture, but walking around to Bed 3 it's clear that the frame on that side is square and flush with the slab edge, but further on down it goes crazy and just floats on air by the time your eye runs to the corner of the alfresco and Bed 4. Either the frame itself was pre-fabbed crooked (not likely), the frame itself wasn't installed square (possible), or the slab itself isn't square along the back edge (also possible).
I contacted my liaison at Burbank about this and she informed me that our SS is aware of the issue and is getting an engineer around to have a look at it. She also said that the SS would try to call me on Friday to discuss it, but I haven't received any call from our SS yet. I asked if Burbank deems the frame to be at 'complete' stage and she said yes, so I have booked in an independent inspector (not one that has been nominated by Burbank, clearly their inspectors don't have measuring tapes otherwise we wouldn't have this issue with the back wall!) and all that's going to happen at 10am tomorrow (Monday). It will be interesting to see what the inspector report reveals.
There is also an issue with the back door to the alfresco, it seems that entire wall is also floating on thin-air.
Who said building a house was easy!?